101 Power Confessions: Who I am in Christ - CD Hardcopy
00000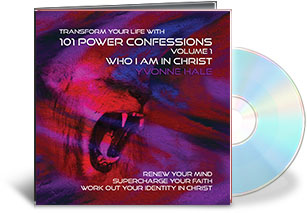 *** SPECIAL DISCOUNTED LAUNCH SPECIAL: $15.00 (USUALLY $17.00)***
101 Power Confessions - Who I am in Christ CD's
Why is there so much spiritual warfare surrounding a person's thought life?
Because the enemy of our souls knows if he can influence our thoughts then he can affect what we attract into our lives. Thoughts hold an intrinsic creative power. In Genesis 1 it says God created the universe with a word, a command... Words are simply thoughts expressed.
Do you sometimes struggle with self-doubt?
Do you find it hard to break out of limiting beliefs and negative patterns of thinking?
Do you simply need to renew your mind with the word of God?
101 Power Confessions is scripturally based and completely empowering. Listen to 101 Power Confessions Volume 1 - Who I am in Christ, for a minimum of once a day for 30 days and transform your life...
The bible tells us - "So faith comes by hearing, and hearing by the word of God." - Romans 10-17 101 Power Confessions Volume 1 - Who I am in Christ was birthed out of a strong desire to see all Christians empowered through recognising the truth about who they are in Christ and appropriating this astounding truth from the Word of God into their lives.
If you want to live a consistent, power-filled, spiritual life...
If you want to achieve your God-given destiny ...
If you want to have control over your mind instead of it controlling you...
...then 101 Power Confessions Volume 1 - Who I am in Christ is for you.
Get your copy of this life changing CD now for $17.00 AUD plus postage and handling; click 'Buy Now' button on this site. Pay Pal will convert currency automatically. Available also at Koorong Books Australia wide and onlinewww.koorong.com.au. Quick MP3 download available on Itunes.
We are continually admonished in Scripture to be attuned to what we are thinking and to take charge of this incredibly powerful faculty God has given us - "our minds".
With 101 Power Confessions Volume 1 - Who I am in Christ we are invited to take in God's thoughts about who we are in Him; so that we can rise above our own limited thinking and take hold of all that God has for us as Sons and Daughters of the Living God.
2 Cor 5-17 "When someone becomes a Christian they become a brand new person inside, they are not the same anymore, a new life has begun." Renew your mind while you drive your car, while you sleep, while you are relaxing at home, while you're riding the bus or train to work...
101 Power Confessions Volume 1 - Who I am in Christ is a compilation of 101 energetic and bold declarations of faith filled Scriptures spoken by Yvonne Hale, committed Christian, Business Trainer, Life Coach and Mentor and is accompanied by moving music that will assist you to renew your mind, supercharge your faith and work out your identity in Christ.
What are people saying about 101 Power Confessions Volume 1?
"This inspiring CD I attribute in aiding my recovery from a server case of Post Traumatic Stress Disorder... I highly recommend it for a sense of peace, calmness and clarity." - JB, Australia.
"I listen to this CD on the way to work everyday. During the day...as I remember who I am in Christ I feel confident and more than a conqueror through God's promises for me. I am confident that this CD will be an encouragement to all who listen to it." - SP, Australia.
"Not that long ago I was lacking confidence and was feeling down... I had been looking for a job for a long time and as I gained more confidence in my identity in Christ and started to feel much happier I was suddenly blessed with a new job, that is perfect for me." S, Australia.
"...on the first day that I played this CD I began to think very clearly... and was able to sort out months of office clutter in my home. Since then I have been playing this CD every day and... I am more focused and my heal is improving daily." - KC, Australia
"I believe that my faith must rest on the solid rock of God and His Word. Listening to this CD has helped me to renew my mind with God's truth and replace the lies I have been believing." - GE, Australia.
"From the moment I put on the CD I felt this incredible urge to pray. I felt my spirit leap. It was really amazing." - HS, Australia
All proceeds from the sale of this CD, fund Yvonne Hale's overseas Ministry work in India and other third world countries.
Get your copy of this life changing CD, 101 Power Confessions Volume 1 - Who I am in Christ today and start renewing and nourishing your mind with positive confessions of faith .
Purchase your copy now by clicking on the buy-now button below.