101 Power Confessions Double-CD Collection
00004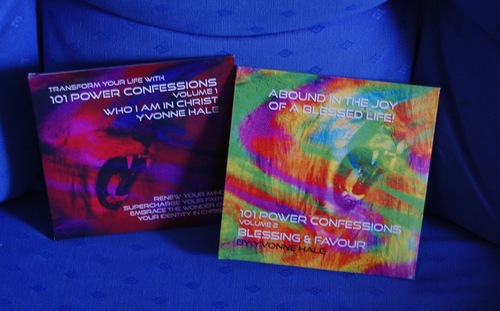 EXTRA SPECIAL LAUNCH PRICE: 2 CDs for just $25.00
Why not be doubly blessed and get the whole collection?
In this pack you get:
101 Power Confessions - Vol 1 - Who I am in Christ (Usually $17.00)

and

101 Power Confessions - Vol 2 - Blessing and Favour (Usually $17.00)
Both CD's carry the word of God, as spoken by Yvonne Hale and accompanied by beautiful music that is both peaceful and inspiring.
Renew your Mind, supercharge your faith and embrace the wonder of your identity in Christ, then abound in the joy of a blessed life!
Each CD contains the confessions, so you can say them along with the CD. What better way can there be to 'be transformed by the renewing of your mind'?
"From the moment that I first listned to this CD, I felt this wave of evmotion rise up within me...it was a new desire for connection with God. I began to pray an dI felt God's love surround me and fill me with His peace. Highly recommended." - HS, Australia.

"Since listening to this CD, my life has changed exponentially. I feel totally energised from the inside out and am experiencing massive changes in my belief system. This CD is a powerful tool that God is using to bring positive change." - Hayley, Western Australia.
From the creator:
"Since I changed my thinking, my whole life changed." - Yvonne Hale
Yvonne Hale is an international speaker, author, business trainer and life coach. Graduating from her studies in Australia and Florida, USA, Yvonne has held senior management positions in serveral high profile Australian organisations as well as being Director of her own consulting and training business for a period of 8 years.
Yvonne has a rapidly growing international ministry and is seeing countless men, women and children transformed by the power of God. Yvonne Hale Ministries International is an independent ministry which his under the covering of Anoint the World Ministries in Australia - Dr Reg Morias.
Yvonne moves in the Glory realm and has the office of an Evangelist, Prophet and Teacher. She carries a very powerful Breaker Anointing. Yvonne also has a worshipper's heart, like the Psalmist David. Yvonne has ministered in countries such as India, Pakistan, Ghana, Uganda, Kenya, Israel, France and the UK.