101 Power Confessions - Volume 2 - Blessings & Favour CD Hardcopy
00002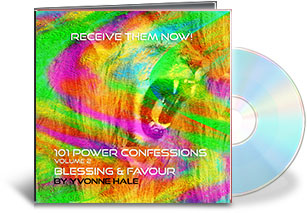 ***AVAILABLE NOW. SPECIAL DISCOUNTED PRICE OF $15.00 - USUALLY $17.00***
101 Power Confessions - Volume 2 - Blessings & Favour will raise your expectation, your understanding and your belief in the God who pours out his blessings and favour upon His chosen people.
If you are struggling in your faith, need a release in the area of your finances or desire to get closer to God by better understanding what God has promised to you, then you will want to be listening to this powerful CD which will retrain your subconscious mind to align with God's word.
"The music, the scriptures, the confessions all work together like a slingshot of faith. You can feel it wrapping around your spirit, applying tension then catapulting your forward in faith. Since I started listening to this CD I have experienced an increase in my business, massive changes in my family members and the release of God on my personal influence. In fact, my husband is heading to Israel since starting the CD to launch his new business, something we had not even considered being possible prior to this CD. Our faith is increased, our expectation of God is heightened and my awareness of the power of my words and the challenge to make them words of life has become very real. Thank you, Yvonne, for this life changing resource that was birthed out of God's heart."
Tracks 1 2: 101 Power Confessions - Blessing and Favour looped.
Track 3: 101 Power Confessions - Blessing and Favour - Subliminal - For effective listening, use headphones. Duration: 60 mins
Developed and spoken by Yvonne Hale
Cover Design by Hayley Solich
Music and Production by Steve Calwell
@ All rights reserved 2012